The Benefits of Using an Undated Daily Planner
Planners · ❖

by Jesica Couture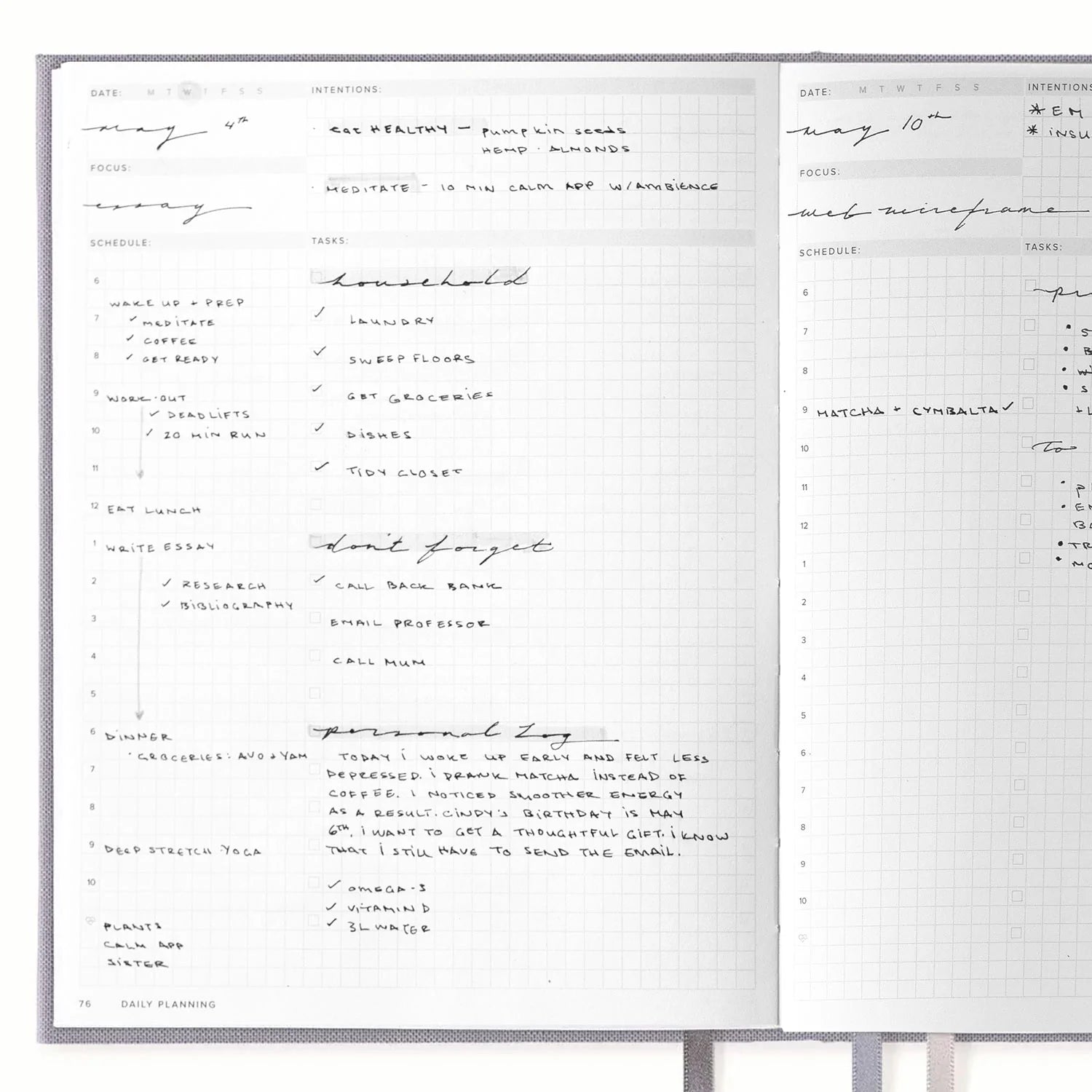 What is an undated planner?
Undated daily planners are a type of planner that do not have pre-printed dates, allowing users to start using them at any time, and to customize and adjust their plans as needed. This type of planner is different from traditional dated planners, which have pre-printed dates and are designed to be used on a specific day, week, or month.
Undated planners are a great tool for people looking to organize their lives, set goals, and keep track of their progress, but who don't want to feel constrained by the traditional planner format. You can find undated planners in daily or weekly layouts.
Dateless planners are more flexible
Because they do not have pre-printed dates, undated daily planners can be used at any time, and can be easily adjusted to fit the user's changing needs and schedule. This allows users to start using their planner whenever they want, and to customize their plans to fit their unique goals, priorities, and lifestyle.
The flexibility also allows you to keep work and personal separate within one book, since the planner is undated you can divide it up however you want and not have to keep multiple planners.
Undated daily planners tend to have more space
Unlike weekly planners that have a single page dedicated to multiple days, undated daily planners provide users with more room to plan. Sections such as to-do lists, goal trackers or notes areas allow for more flexibility for a user's unique planning needs. There is also more space for using different colours, fonts, and stickers for folks make their planner more visually appealing and effective for themselves.
Another thing you can do with that extra space is use it for reflection and gratitude. By taking time to reflect on your progress and express gratitude for the things you have, you can cultivate a positive mindset and increase your overall well-being.
Undated planners can last longer
Because they do not have pre-printed dates, undated planners can be used longer than dated planners. This means that an investment in a high-quality planner can be even more worthwhile, as it does not need to be replaced as often. This can save you time, money, and resources, especially if you're someone that doesn't use a planner every day. You also won't need to feel guilty about missing any days if you're trying to form a daily planning habit!
Also, undated planners sometimes come in a smaller format because they do not include a full year of pages, so this means you can find some that are easier to carry around if that's important to you.
How to set up your undated planner
One potential drawback of undated planners is that they require a bit more effort and intentionality than pre-dated planners. With a pre-dated planner, the dates are already filled in, so you simply need to fill in your tasks and appointments. With an undated planner, you need to take the time to write in the dates yourself, which can be a bit of a hassle. However, many people find that the extra effort is worth it, as it allows them to create a planner that is uniquely tailored to their needs.
Ready to get started using an undated planner but need a little more guidance? Check out our beginner's guide. [Link to Beginner's Guide to undated planners - not yet published]
By providing flexibility, space, and requiring less of a commitment, undated daily planners are a great tool to help you stay on track!
If you'd like to try the free Hemlock & Oak 6-month Undated Daily planner, join the community below and have it sent to your inbox!
Happy planning!
---